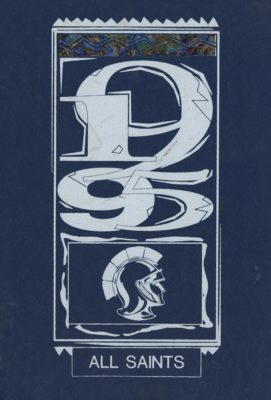 This is a listing of the yearbooks of All Saints Episcopal School that we own and have available in our archives. Copies are available at $1.00 per page.  E-mail us for instructions to order and pay. We will copy any pages you wish and you can pick up or we can mail it to you.
You can come in to research the yearbooks that are in our archives. Please contact us with an e-mail or call (903) 592-5993 to tell us when you are coming and what you are researching. We will do our best to have material pulled to make your trip easier and more productive.
We are partnering with East Texas Genealogical Society in indexing the yearbooks. We will upload them as we get them ready. If the year that you are interested in is not listed, check back later to see if we have received any donations of the yearbook that you want. We gratefully accept donations of yearbooks and other Smith County related material. Click here for more information.
2001
History of All Saints Episcopal School
In 1976, the school was formed and originally named St. Andrews Episcopal School. Early in 1976, All Saints Episcopal Day School was incorporated as a legal entity. An independent school board was formed, and the school year began with an enrollment of 118 students and 11 faculty members. In 1982, the 7th grade was added and Mr. W. W. Wagley donated 20 acres for a new school site which is the school's current campus. The new building was completed for the 1983 – 1984 school year and 326 students were enrolled in preschool through 8th grade.
The 9th grade was added in the fall of 1993. The Board of Trustees officially announced a capital campaign that included the purchase of 108 acres for Davis Sports and Multi-Purpose Center with administrative offices and five classrooms, two portable buildings, and Brookshire Drive. The Genecov Hall was completed in August of 1995, the Upper School was expanded to 10th grade, and the athletic fields were completed.
In the 1995 – 1996 school year, the Upper School building, Irwin Hall, was completed and the Lower School playground and fields were added. During the 1996 – 1997 term, the Upper School's enrollment increased to 79 students and graduated their first graduates. The class of 1997 had 12 proud trailblazers.
In the 1998 – 1999 term Rogers Hall, a 30,000 square foot building containing administrative offices, state of the art library, two computer labs, audio visual room, and  conference room was completed.
2000 – 2001 Vaughn Hall, containing six classrooms, administrative offices, two art studios, and a computer lab, was completed. 2002 – 2003 The Mewbourne Hall of Mathematics and Science was dedicated. 2003 – 2004 The Warmack Tennis Center was completed with eight lighted tennis courts.
2007 The Mewbourne Field and Track Complex was completed and opened in September of 2007. 2008 All Saints was accredited by the Independent Schools Association of the Southwestand was elected into the Association on November 11, 2008. That same month, the Bruce G. Brookshire Family Student Athletic Center was opened.
2010 – 2011 All Saints was officially accepted as a member into the National Association of Independent Schools. 2015 – 2016 In 2015, a Capital Campaign was approved to renovate the Lower School and make improvements across the campus. In 2016, a new Chapel was consecrated. The new Chapel is a beautiful dedication to our spiritual pillar and beautiful place of worship for our school community.
2016 – 2017 The school celebrates 40 years of excellence. Phase I of "Honor Our Past, Imagine Our Future" campaign completed with renovations to the Lower School porte cochere, carpool, and foyer. Lower School and Intermediate/Middle School Makerspaces created to  inspire, encourage, and compel students to become designers, developers, collaborators, and leaders ready to make a difference in the world. Additionally, innovative teaching was heightened with 3D printers, a laser cutter, a milling machine and more. The "Honor Our Past, Imagine Our Future" Campaign was launched. In 2017, ground is broken for the Center for Innovation at All Saints, the Lower School Collaboratory, and the Lower School Learning Farm.
2017 – 2018 Phase II of "Honor Our Past, Imagine Our Future" campaign completed with the opening of the Upper School Center For Innovation, the Lower School Collaboratory, and the Learning Farm. (abstracted from https://www.all-saints.org/page/about-us/history accessed 17 May 2018)