Smith County, Texas in Unlikely Places
Several weeks ago, my husband and I were driving back to Tyler from a weekend spent with family. It was during this four hour long car ride that my husband and I stumbled across something that I want to share with you:
While we drive, my husband and I both really enjoy listening to different podcasts. Currently, we're listening to Lore by Aaron Mahnke, a podcast that focuses on stories of mythology, folklore, and horror and provides real life instances of these stories. Although a few of the stories Aaron goes into can get a little spooky they're more interesting than anything else!
As my husband and I were driving I picked a Lore episode at random. Aaron is an excellent storyteller and he does a great job of painting a vivid picture for his audiences, and I will credit this ability with my reason for connecting his episode back to Tyler, Texas as quickly as I did. The episode I had so innocently picked was Episode 35: The King– a story about a small island in the Pacific that would become home to heartbreak and survival in the early part of the 1900's. To listen to this podcast please click here and scroll down to Episode 35.
Aaron states that the island, also known as Clipperton Island (map pictured below), had been under dispute by several countries for some time. Although the British had created a small village there the island was overall uninhabitable and required frequent supply shipments for it to be inhabited successfully. The British all but vacated the island and Mexico decided to send families and soldiers to inhabit what the British had left behind.
The families living on the island had survived off of the regular supply ships coming from the mainland of Mexico, but by 1914 the Mexican Civil War put an end to this lifeline. Before the fighting had gotten too bad, an American ship had come by chance and offered to remove the families back to the mainland. The Americans warned them that the shipments would stop but the families insisted they would remain where they were.
As time progressed, however, the supplies did stop and men, women, and children began dying of disease, malnutrition, and attempted escapes. Eventually, all but one man was left alive on the island and he quickly became the "king" of the remaining women and children. As you can probably assume, the man in question began to abuse his authority over the women until they had finally had enough and murdered him.
It was at this point in Aaron's storytelling that I realized just how familiar this story seemed to me. Suddenly, as we continued to listen, I knew exactly where I had heard the story before. As many readers might know, the Smith County Historical Society is currently focused on World War I and honoring the centennial anniversaries. One of the many World War I programs the Society has enacted is the posting of letters written home by servicemen to their families that were later printed in the local newspapers (we post these letters here on our blog).
It was in one of these letters published in the newspaper where I was first introduced to this harrowing and sad story.
The following excerpt was taken from a letter written by Cyril Parker to his father, W. H. Parker, here in Tyler. The letter was dated October 3, 1917 and was published in the Tyler Daily-Courier Times on October 9, 1917. To read the full letter click here.
One of our most interesting experiences was last July. Some where in the tropics we ran across a small isolated island of volcanic origin, and the captain sent a landing parts ashore and what they found was perfectly horrible and sickening to all us fellows who are used to most any thing. We found eleven women and some children all alone and the only inhabitants of the lonely island. They were walking skeletons and just hardly able to walk, and the most pitiful looking objects I ever saw. They looked more like ghosts than human beings, they were so nearly starved. The women all wore only a piece of canvass made or torn from the sail of a ship, tied around the hips with a string, while the children were all start naked, and the sun has baked them brown. We found that in 1908 a vessel while passing this island was wrecked and 35 survivors made it to this island, and it being a small place of no value, ships ever called by, and hence these people lived all this time on bird eggs and what few cocoanuts grew on the island. Will say that birds on this island are very numerous and gentle as cats, one has to simply kick then out of the way. So these people had to exist on this kind of diet. The result was most of them died with scurvy, and the remaining few men had all been murdered by the women. The last pool fellow was murdered the day before we found them and we found his mutilated body. Why these women murdered the men are never found out. There were several very small children all born there under these conditions and they were wild as deer. They were Spaniards and we brought them and landed them with the tenderest care.
After my husband and I had finished Aaron's episode, I pulled up this letter and read it to my husband. He agreed that it sounded quite similar although there were a few discrepancies between Aaron's version and that of the letter. At the end of the podcast episode, Aaron described the rescue of the remaining women and children from the island in 1917 by the U.S.S Yorktown of the United States Navy.
When I returned to work the following day, I began searching for Cyril's service records in earnest. Eventually, I found exactly what I was looking for, the image provided below, and I'm not sure if I was surprised by what I found or not. Although the story in Cyril's letter and Aaron's podcast don't match exactly they do, in fact, describe the same event which is proven by the fact that Cyril was the Radio Operator on the U.S.S. Yorktown in 1917.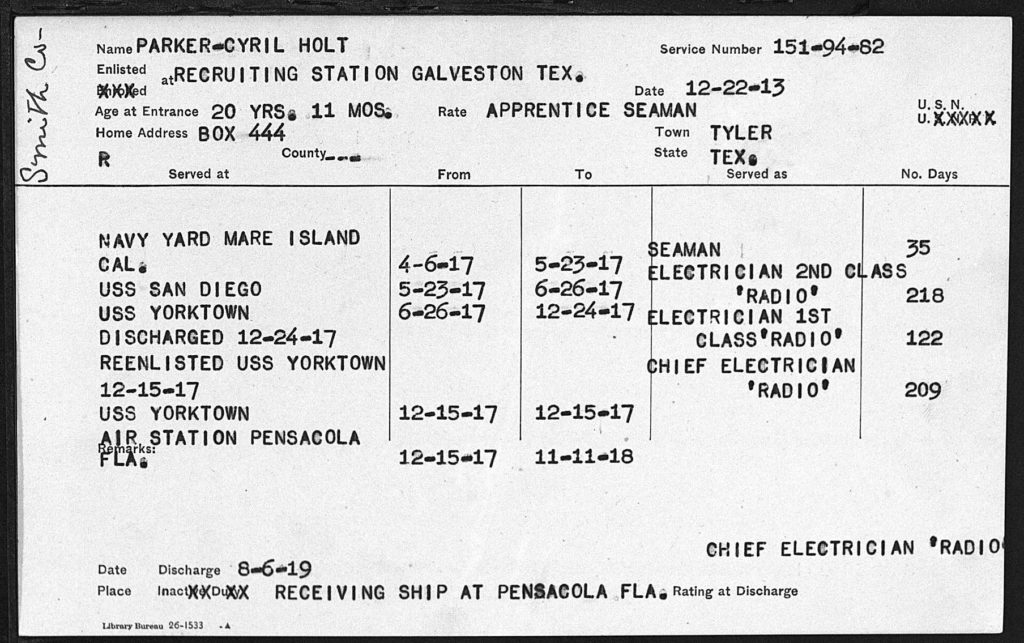 People constantly ask me why I would willingly choose to study History. When they ask, I tell them stories like this one and other instances like this. History has a funny way of coming to light and piecing itself together. I can say that with certainty, because what was the likelihood that I would have chosen that podcast, that I would have read that blog post, and frankly, what was the likelihood that a local Smith County boy would have been on a ship that rescued those stranded survivors and would later have that letter describing the event published in the paper?
Thank you for taking the time to read this. I hope you enjoyed this story and I hope you take the time to listen to the podcast and read the letter I've linked to this page. Please feel free to share any similar serendipitous history finds in the comment section below!
Thank you to Scott Fitzgerald for his work in transcribing and posting the World War I letters home that are published on our blog. It takes a lot of time and energy to do what he does, but the letters are worth it. Such an interesting source of information!
For more information on Aaron Mahnke and the Lore podcast you can visit his website here.