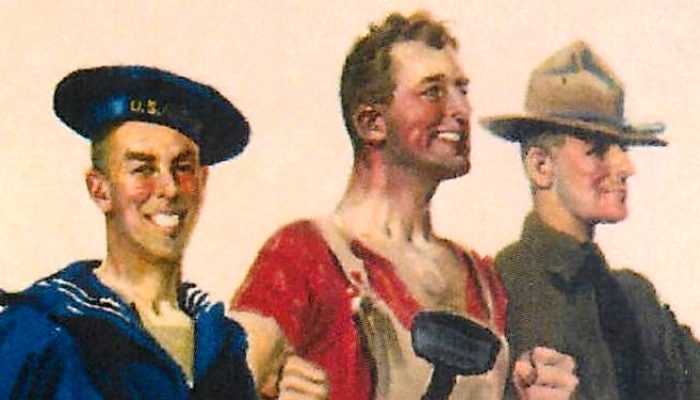 Letters Home From Soldiers During World War I is going to be a regular weekly feature in celebration of the centennial of the United States entering World War I.
From Tyler Daily Courier-Times, October 9, 1917:
Letter From Tyler Boy Gives Experience of U.S. Naval Travels
Mr. W.H. Parker, a well known employee in the Cotton Belt General offices, has received an interesting letter from his eldest son, Cyril, who is a wireless operator on an American vessel that has been cruising in the Pacific ocean for the past year or two. It is such an interesting letter that we print it below, and we are sure friends of the young will be glad to read his interesting experiences as he sails the vast Pacific ocean fighting Uncle Sam's battles. The letter:
San Francisco, Cal., October 3, 1917.
Dear Papa: We arrived in this port today after several months cruise all over the Southern Pacific waters, and it looks and feels good to be back among civilization once more. Our trip carried us to the only parts of the west, I had never seen, so I am very glad we made it. We saw nothing but people of Asiatic descent, and the only white people we saw would be on board passing ships, which our cruiser would stoop and examine for various reasons. We had lots of exciting experience, of which I am not permitted to write. When this war shall have been ended all us fellows fighting it through to the end and come out will have many thrilling experiences to relate when we return home. I could keep you listening a whole week now for I have been as far north and south as civilization extends and all over Asiatic waters. I could, if permitted, tell you of a big commerce raider away down south that looked for the world-like a peaceable merchant ship and when one ran close to it a mask was dropped from the vessel and lo, and behold all were looking into the mouths of great big guns. Enough said – We are all alive you see.
One of our most interesting experiences was last July. Some where in the tropics we ran across a small isolated island of volcanic origin, and the captain sent a landing parts ashore and what they found was perfectly horrible and sickening to all us fellows who are used to most any thing. We found eleven women and some children all alone and the only inhabitants of the lonely island. They were walking skeletons and just hardly able to walk, and the most pitiful looking objects I ever saw. They looked more like ghosts than human beings, they were so nearly starved. The women all wore only a piece of canvass made or torn from the sail of a ship, tied around the hips with a string, while the children were all start naked, and the sun has baked them brown. We found that in 1908 a vessel while passing this island was wrecked and 35 survivors made it to this island, and it being a small place of no value, ships ever called by, and hence these people lived all this time on bird eggs and what few cocoanuts grew on the island. Will say that birds on this island are very numerous and gentle as cats, one has to simply kick then out of the way. So these people had to exist on this kind of diet. The result was most of them died with scurvy, and the remaining few men had all been murdered by the women. The last pool fellow was murdered the day before we found them and we found his mutilated body. Why these women murdered the men are never found out. There were several very small children all born there under these conditions and they were wild as deer. They were Spaniards and we brought them and landed them with the tenderest care.
I am having a fine time. My work as wireless operator and electrician is light and pleasant, while we seemingly have been isolated. We get the same news you do at time, all the while, and a great deal more. Having seen all the west side of the world, I have made application to be transferred from here to go to east. Iam going to try to get on one of our big destroyers now in service on the battlefront where real fighting is good all the time. I want to get into the middle of the fight, and be there when the last gun is fired, and see the while flag when the German float it in the breeze for we are sure to give the then the licking of their lives.
Have just read your letter telling me that U—- has gone to France for  ——– brought right ha—–eably since he ha——- the front, and I sincerely which I —- march and fight by his side clear through the fight. He is as brace and fearless as a lion and God pity the German who faces him the any kind of a scrap.
I am on watch tonight while the other fellows go ashore. I am going over in the city tomorrow for a big foot ball game, so I am standing by the wireless tonight. I am now sitting where I can see the search lights of all the big vessels in the bay, playing on everything and it is a most beautiful sight.  They are as bright and I can see for miles every direction.
You need not be uneasy about me, for we can give a good account of ourselves and all we want is a chance to get in sight of the enemy. It is some excitement all right, and every American sailor is as cool as a judge when he goes to battle and every shot counts for a hit and down goes a sub.
I forgot to tell you – we brought a captured vessel in with us which was caught away southwest that is said to have no one on board but a bunch of slackers, I.W.W.'s and German spies. They tried to make a get away for a shot across the bow brought them to time. We are not supposed to know what this vessel contained but rumor says it had a bunch that I have described.
With best wishes and love to all,
Your Affectionate Son,
CYRIL H. PARKER
---
Cyril Holt Parker was born on 8 January 1893, in Lindale, Smith County, Texas, His father was William Harrison Parker and his mother was Flora Artemissa "Artie" Starnes, His parents were married on February 24, 1892. He had one son, Grayson Holt Parker born March 19, 1925 in Pensacola, Florida and one daughter, Eleanor Mary Parker born August 9, 1923 in Pensacola, Florida,with Mary Eleanor Joyner. He died on February 22, 1972, in Pensacola, Florida, at the age of 79.
Cyril enlisted in the Navy on 22 Dec 1913 and then reenlisted on 6 Apr 1917. He was released from the service on 6 Aug 1919.
Information, research and assistance for the Letters Home from Soldiers During World War I project provided by Andrew L. Leath, Vicki Betts, Tiffany Wright, Savannah Brantley Cortes, Randy Gilbert, Jeanne Sellers and Scott Fitzgerald. If you wish to add or correct any information about Cyril Holt Parker or other Letters Home from Soldiers During World War I, please use the comment feature or Contact Us down below. We appreciate any feedback.