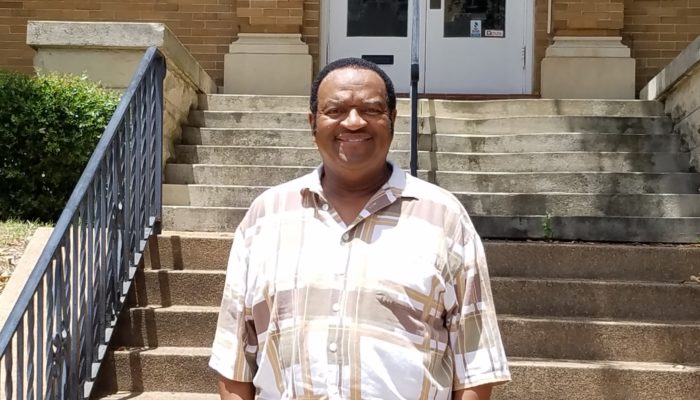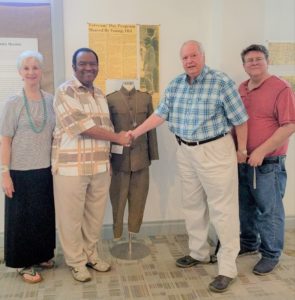 The Smith County Historical Society would like to introduce our first African American Board member Mr. Larry D. Wade, Sr.
Larry Wade has been a member of our Society for 20 years. He has been involved in our Society Archives on many levels, including the research of African American historical data for Smith County Texas. We are honored to have Mr. Wade represent our Society as a Board member!
President Rob Jones, past President Carol Kehl and Vice President Scott Fitzgerald welcome Larry Wade to the Smith County Historical Society Board.
A Biographical Sketch of Larry D. Wade, Sr.
Larry Don Wade was born November 4, 1956 in Tyler, Texas. He is the 3rd son of the late Cleaven and Dorothy Wade. Larry is the proud father of 2 children, Larry D. Wade, Jr. of Tyler, Texas and Ashley Wade-Wilson of Frisco, Texas; both are educators. Larry is the grandfather of 4, and he is married to Joyce Smith-Wade.
Mr. Wade's formal education included 1st and 6th grades at T. J. Austin Elementary School, and 2nd through 5th grades at Sand Flat Elementary School in Emory, Texas where his mother taught at the time. Mr. Wade continued his education with 7th and 8th grades at Dogan Jr. High School in Tyler and his 9th grade year at Boulter Jr. High School. He attended John Tyler High School for his 10th through 12th grade years. Graduating in 1974, Mr. Wade was in the top 10% of his class. Larry played trumpet in band during Jr. High and High School where he received numerous music awards. He received the rank of Eagle Scout in December 1973, and was involved in many other organizations receiving honors in those as well.
After graduating from John Tyler High School, Larry attended Tyler Junior College from 1974 to 1976; and while graduating with an Associate Degree in General Studies, he also received numerous honors while attending. From 1976 to 1978 he was enrolled in East Texas State University (now Texas A&M University-Commerce) graduating in May 1978 with a B.S. Degree in Broad-field Social Science with an emphasis in History. In 1981, Mr. Wade received a Special Education Endorsement from the University of Texas at Tyler after completing graduate studies. In 1985, Larry graduated from East Texas State University with an M.S. Degree in Counseling and Guidance. From 2003 to 2005, he attended Emory University, Candler School of Theology in Atlanta, Georgia where he focused on Graduate Studies in Religion. While attending Emory University, he received his teaching certification for the State of Georgia. In 2014, he received Principal Certification from Lamar University in Beaumont, Texas, as an administrator in the State of Texas.
Mr. Wade's educational accomplishments were followed by a successful career. Larry was a teacher, counselor, and principal in public schools for nearly 40 years; serving in Tyler, Longview, and Marshall Independent School Districts. While employed with Longview ISD, he was a Longview Citizens Police Academy graduate and Alumni Association member. He also served on district committees, Superintendent Communication Council, and a District Improvement Team in Longview. Larry retired in 2017 from Tyler ISD, however, he has continued to work part time in numerous positions with the school district.
Mr. Wade has utilized his education and experience in many active roles in the Tyler area community. Some of the organizations he has represented include Cub Scouts, Boy Scouts, and Tyler Organization of Men. He is a former board member of the Tyler Historical Commission – being appointed by the Tyler City Council, as well as a former board member of the Frances Heritage Home (Founders of Butler College Historical Home). Larry has been a former member of the East Texas Genealogical Society, the Tyler Area Chamber of Commerce Transportation Committee, and the Tyler Metropolitan Chamber of Commerce.
Larry is Founder and 1st Chairman of Werts-Taylor Family Reunion (maternal side) Quitman, Texas 1990. He is also Founder and Chairman of the Wade Family Reunion (paternal side) Tyler, Texas 2007. Mr. Wade is Founder and President of Tyler/Smith County African American Historical Society 2008, and the National African American Historical Society (East Texas Area) 2010.
While Mr. Wade's achievements in education, career and community are outstanding, his accomplishments and dedication extend even further. Larry accepted Christ at an early age, and he started preaching as a teenager. He has been in the gospel ministry now for 43 years. He has pastored the Bethel Temple Community Church (formerly Church of God in Christ) for 34 years. He has also pastored and founded churches in Mineola and Longview. He has taught in many cities of the United States, in national conventions of the C.O.G.I.C., and has evangelized and served in numerous positions in the church. He currently serves as Bishop and Presiding Shepherd of "A New Day Ministries Fellowship".