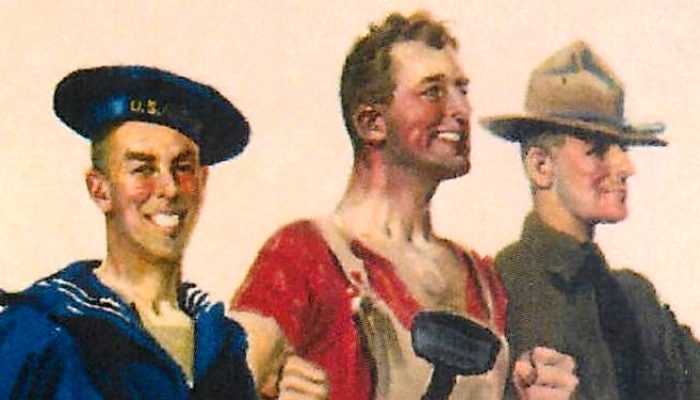 Letters Home From Soldiers During World War I is going to be a regular weekly feature in celebration of the centennial of the United States entering World War I.
From Tyler Daily Courier-Times, September 10, 1917:
Tyler Soldier Writes About Trip From Ft. Worth to New York
The family of Mr. E. C. Hudson in this city has received a letter from him written at Camp Albert Mills, Long Island, telling of his trip from Fort Worth to that place.
The young man recently enlisted in Automobile Truck No. 6 at Fort Worth and left that city for training quarters at Camp Albert Mills. The letter follows:
Camp Albert Mills, Long Island, Sept. 3, 1917. Dear Mother and all:–As I have a few moments to spare I will write you a few lines to let you know I am getting along fine.
There were six motor truck companies camped in Ft. Worth. We all left there August 30th, about five p.m. and arrived in Camp Albert mills, Sept. 3rd about six a.m., four nights and three days on the road, with a three hour stop in Memphis, where we all marched to the Y. M. C. A. and bathed, also an hour "lay over" in Washington, D. C. We traveled over the T. and P. from Ft. Worth to Texarkana. I was within a few miles of home as we came through Mineola, also Big Sandy. From Texarkana we took the Iron Mountain to Memphis, through Little Rock, Ark., thence the Southern Railroad to Bristol, Va., through Knoxville, Tenn. At Bristol we changed to the Norfolk and Western Railroad, came through Roanoake, Va.
At Lynchburg we again took the Southern Railroad and stayed on it until we arrived in Washington.
From Washington we took the Pennsylvania to New York City. Came through Baltimore, Maryland and Philadelphia. At New York City we came through the subway.
At Garden City, N. Y., we marched out to our camp, which was about a mile from the station. Had a fine trip all the way.
I don't know how long we will be here, but I hope we will cross the "pond" soon.
The climate is certainly fine(?) here; nearly burn up during the day and freeze during the night.
There are about twenty thousand men camped here and there will be about twice that many a little later on.
We have a fine bunch of airoplanes flying over at all hours during the day and night.
Give all the boys by best regards and tell them I like this life fine. I am a corporal now,  two stripes on my sleeve, but expect a few more. Must close now.
Love to all,
BROTHER.
Truck Co. No. 6
Camp Mills,
Hempstead,
Long Island, N. Y.
---
Eugene Clayton Hudson was born December 14, 1895 in Tyler, Texas. His parents were William H. Hudson and Rosa Lee Rosenstein. Eugene died October 7, 1922 and is buried at Rose Hill Cemetery, Tyler, Smith County, Texas.
Id                    339
Veteran Name  Hudson, Eugene C.
Place of Birth   Tyler
Birth or age        1895/12/14
Residence           Tyler
Enlistment place               Houston
Ind-Enlist- Service Branch             Enl.
Enl Date          19-Jul-17
Unit Regt         117 Supply Train
Division           42nd
Rank                Corp
Overseas             Y
Day OS               31-Oct-17
Date Back            29-Apr-19
Date of Discharge             15-May-19
Place of death   Tyler, Smith County
Death date          07-Oct-22
Cemetery            Rose Hill, Tyler (SC)
Mil  HS  Y
Source  http://www.findagrave.com/cgi-bin/fg.cgi?page=gr&GSln=hudson&GSfn=eugene&GSmn=c&GSbyrel=all&GSdyrel=all&GSob=n&GRid=35853020&df=all&
Information, research and assistance for the Letters Home from Soldiers During World War I project provided by Andrew L. Leath, Vicki Betts, Tiffany Wright, Savannah Brantley Cortes, Randy Gilbert, Jeanne Sellers and Scott Fitzgerald.If you wish to add or correct any information about Eugene Clayton Hudson or other Letters Home from Soldiers During World War I, please use the comment feature or Contact Us down below. We appreciate any feedback.