Charles Newcomb McClendon – WW1 Servicemen Sponsorship 2018
Sponsored by Daye Collins
Life Before WW1
When Charles Newcomb McClendon was born on September 2, 1892, in Tyler, Texas, his father, Sidney Smith McClendon, was 27 and his mother, Annie Rebecca (Bonner) McClendon, was 24.  He was the second child born of nine children.  He married Norma McClendon on December 12, 1916, in Morris County, Texas. He died on January 11, 1978, in Daingerfield, Morris, Texas, at the age of 85, and was buried in Daingerfield Cemetery.
At the time that Charles signed his draft card, June 5, 1917, he and  Norma were living in Daingerfield, where he worked for a Cotton Seed Oil Manufacturer.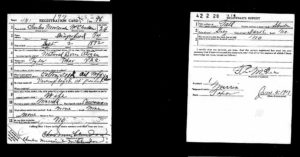 World War 1 Service
Inducted Date and Location: October 15, 1917 – Camp Travis, San Antonio, Texas
Army Serial Number: 2,253,229
Overseas: August 14, 1918 to June 30, 1919
Discharged: July 17,1919
Unit: Military Transport Company 472
Charles was 25 years old when he joined.  He was sent to Camp Travis, Texas for basic training.  His unit was responsible for supplying the troops on the battle line.  He was promoted from Corporal to 1st Sergeant to Lieutenant while serving in France.
Charles' unit was engaged in combat at St. Mihiel, Meuse Argonne as part of the Allied Expeditionary Force.
Life After the War
After his return from the War he worked as an accountant in banking, private practice and in government.  His entire family were active and productive at many levels of society.  His sister Sarah McClendon is well known as a pioneer in the world of broadcasting.  Please visit the historic McClendon House webpage here.
The information provided on this sponsorship page is an accumulation of work and research completed by our Society and volunteers.  If you are interested in correcting or adding information to this page, please leave a comment below or email us at info@smithcountyhistoricalsociety.org.
If you have enjoyed reading this information and are interested in sponsoring your own World War I Servicemen from Smith County, Texas please feel free to view our Sponsorship page! Click here to learn more.