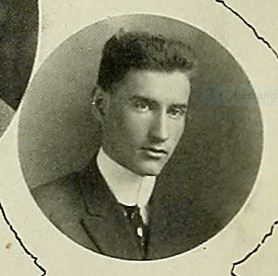 Dr. and Mrs. A. P. Baldwin have received a letter from a friend of their late son, Lieut. Favre Baldwin, who was recently killed while serving at the front in France.  This friend, Lieut. Robert W. Ashley, was with Lieutenant Baldwin just a few minutes before he met his death.  The letter published below was taken from his dead body by Lieutenant Ashley.
My Darlings:  The long-awaited orders have just come through, sending me "up the line," and tomorrow will find me in the thick of things.  I am writing this letter simply as a precautionary measure – having no idea of ever sending it unless I am killed outright.  In that event, it will be found on my person stamped and addressed to you – and you will receive it as my very last message.
The chances are about one out of ten of your ever reading this letter.  I fully expect to come through unscathed.  And why not?  Scores of my R.A.M.C. friends have been through four years of this and are still here to tell about it and lend encouragement to the unsophisticated.
But if I am killed or even mortally wounded it will be a death that should be a consolation to you for all time.
There are few of my friends who have been fortunate enough to offer the supreme sacrifice within so short a time of initial enlistment.
Death in itself has no terrors for me.  Its physical aspect is dependent entirely upon one's moral stamina – its contiguity with the Life Hereafter is simply a matter of Faith and Trust – and not a matter of inspire fear.
You will always have the knowledge that I met a glorious fate and died with a high heart and a perfect Faith.
As for our mutual love, no mere words written on white paper need attempt to proclaim it.  I know what incomparable parents you have been to me and how your wonderful, unselfishness and self-sacrifice have been like a clarion call to the best in me.
Future life to me would mean a striving upward from the foundations that you have laid for me to the heights that your love and ambitions have pinnacled for me.
And so I go — with your dear faces before me, and your Love my guide and strength.
Why should I fear bombs and shells when I know that your love has annihilated the spaces and you are both with me in spirit, walking by my side through all my labors.
And, now my saintly mother, and my revered father, in the words of the old Romans:
"We, who are about to die, salute you."
Good-by, Favre
Joseph Favre Baldwin was born on August 3, 1892, in Tyler, Texas. His father, Aaron, a doctor and his mother, Clara, a concert pianist.  He was a senior Medical School student in 1915, attending Tulane University.  He was called into service as a 1st Lieutenant in the Royal Army Medical Corp, September 15, 1917.  Serving as a part of the 11th (Service) Battalion he landed in France and saw action on the Western Front.
He died on August 7, 1918, in France at the age of 26, and was buried in Oakwood Cemetery in Tyler, Texas.
This letter was first published in the Tyler Courier-Times and later in The Cameron Herald (Cameron, Texas) · 19 Sep 1918, Thu · Page 1.