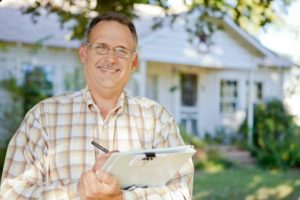 Mark Thacker is a Board member of the Smith County Historical Society. Mr. Thacker presented the program for our March 2019 meeting on Historic Preservation. Mark is a preservation architect by profession and serves as a member of the Texas Archaeological Stewards Network, a program of the Texas Historical Commission.
A lifelong resident of Smith County, Texas, Mark received his architectural education at Texas A&M University. He is a registered architect and owner of his own architectural firm which is located in Lindale. His designs across East Texas have entailed projects as small as a chicken coup to as large as a multi-story Courthouse restoration. A wide variety of project types have included schools, Churches, office buildings, jails and work on historic sites.
Historic Preservation Projects
The program at our Society's meeting covered some of the projects Mark has worked on. For example, how would you disassemble a home like the one shown in the photo on the right and move it to a new location? Mark discussed the many steps and time involved in research and study of the structure of this home. The intricacies of the project are incredible.
Another project Mark was involved in was the restoration of the Robertson County Courthouse in Franklin. The picture shown to the left shows that the restoration was a success!
For a "before" photo of the Robertson County Courthouse visit Mark's FaceBook page and note the AMAZING transformation.
Mark Thacker has a background in civil and structural engineering but chose the architectural path, having practiced as a registered architect for over 25 years. His love of history, archaeology and architecture resulted in his focus on preservation architecture.
Much of Mr. Thacker's preservation work is governed by the Texas Historical Commission. Over the years he has built professional relationships with THC staff in both the architecture and archaeology departments. Mark serves as an adjunct professor at the University of Texas at Tyler teaching historic preservation. Mark, and his wife of 32 years Dana, have two grown daughters and are a family with an appreciation of the past.
We want to thank Mark for his very interesting program and for all of the work he does to save historical buildings!