Jesse Elmer Shelton – WW1 Servicemen Sponsorship 2018
Sponsored by Wanda Barber
Life Before the War
When Jesse Elmer Shelton was born on February 24, 1896, in Richland, Navarro County, Texas, his father, Joshua F Shelton, was 35 and his mother, Laura Elizabeth (Dunn), was 20. He had one brother and three sisters.
At the time of Elmer's enlistment in Army in 1916, the family is living in Troup.
World War 1 Service
Inducted Date and Location: July 26, 1916 – Camp Wilson, San Antonio, Texas
Army Serial Number: 1,493,199
Killed in Action: November 4,1918
Overseas: July 18, 1918 to Death
Unit: 9th Infantry, Co K
Elmer was 19 ½ years old when he joined.  He was sent to Camp Wilson for basic training.  Camp Wilson was located on the grounds of Fort Sam Houston.
His initial enlistment company was the 3rd Infantry, Co C, Texas National Guard.  In September of 1917 his unit was renamed the 143rd Infantry, Co E.  The men were sent to Camp Bowie, Ft. Worth, Texas for further training before going overseas.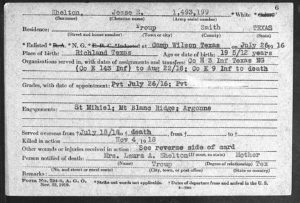 Elmer's unit was engaged in combat at St. Mihiel, Mt. Blanc and Argonne.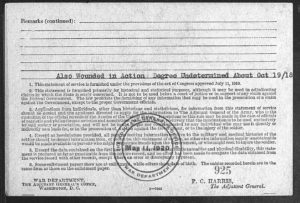 He was wounded in action on October 19, 1918.
Jesse Elmer Shelton was buried in Bullard Cemetery located in Bullard, Smith County, Texas.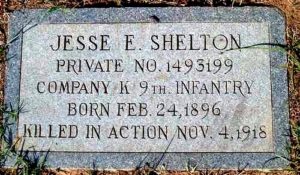 The information provided on this sponsorship page is an accumulation of work and research completed by our Society and volunteers.  If you are interested in correcting or adding information to this page, please leave a comment below or email us at info@smithcountyhistoricalsociety.org.
If you have enjoyed reading this information and are interested in sponsoring your own World War I Servicemen from Smith County, Texas please feel free to view our Sponsorship page! Click here to learn more.