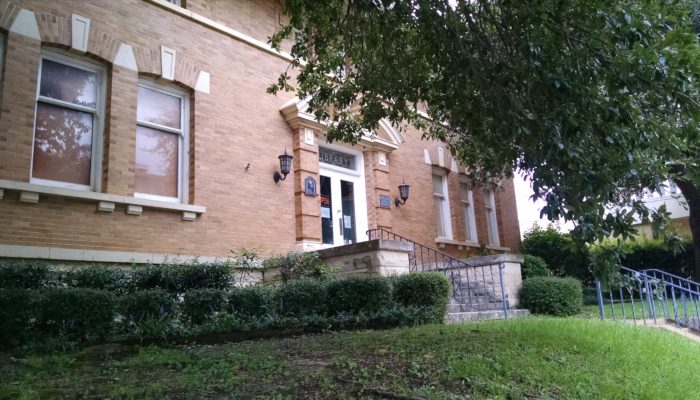 Are you looking for things to do in Tyler, Texas? The population of Tyler is growing at a fast rate, and so is tourism. The Keepin' Tyler Rosy Destination Training tour is hosted by The Tyler Area Chamber of Commerce for employees of the hospitality industry of Tyler. I was fortunate enough to be a part of this tour along with 22 fellow associates and Susan Travis, Vice President of Tourism and Servicing, as our guide. We drove by many establishments and visited nine. Now we can share personal knowledge to our visiting tourists. This unity among the city's attractions will strengthen the positive experience for our guests, and our local families.
Located In and Around Downtown Tyler, Texas
After meeting at the Chamber of Commerce and a wonderful breakfast by Azalea Catering, off we went for a drive around the bustling Square in Downtown Tyler. I have included a link here so you can see all of the fun, family friendly things to do right here in the heart of our great city. Be sure to utilize the Fair Plaza Parking Garage which is now FREE.
Within walking distance of The Square and the parking garage, is Tyler's fabulous and historic Carnegie Library building. This is where we are located! The Smith County Historical Society (SCHS) has one of the largest collections of Smith County Texas history. Our Archives hosts people from all over the United States researching Smith County ancestry and more. We also have a Museum of artifacts and information, including a transitional exhibit that is updated and changed periodically throughout the year.
The Discovery Science Place is also located in Downtown. This is an interactive, science-related facility for children. They currently have a special Egyptian exhibit that is interesting for your older children (8yrs and up).
Just on the Northern outskirts of the Downtown Square, we were welcomed at the Goodman Museum by Curator Mary Foster. This beautiful home was bequeathed to the City of Tyler along with all of the original family furnishings.
Seven minutes Northwest of the Goodman Museum, is Tyler's Caldwell Zoo. Mr. Caldwell started this zoo from his home as a teaching tool for children. When the interest grew, so did the zoo. Now Tyler has an 85 acre zoo to share with our visitors. Be sure to check out their website for some interactive experiences they now offer!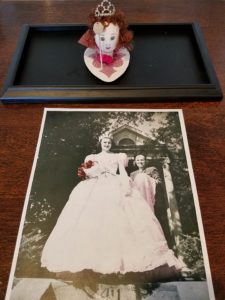 Five minutes Southwest of Downtown Tyler is the famous Rose Garden Center. The view from the outdoor terrace overlooking the roses is amazing! Their museum is full of intricately beaded dresses, tiaras, and crowns of former rose queens, and so much more.
As a part of our SCHS Whimsical Blown Egg-Art Collection, one of the eggs is a custom ordered "portrait" of the 1940 Ambassador's Queen Mary John Grelling. You can see the beautiful back of her dress in a photo from the Rose Garden on the right.
Located Within Tyler, Texas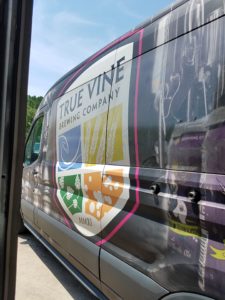 A 10 minute drive East of the Rose Garden is The Center for Earth and Space Science Education. We were treated to a few trailers from movies shown in their 40 foot dome theater, as well as a tour of their museum. Another enjoyable, learning and interactive activity for the whole family.
We also visited the new location (March 2018) of True Vine Brewing Company. Family oriented, with a dog park and children's play area, this is a fun environment for the whole family.
Located Within The Tyler, Texas Area
Heading to the outskirts of Tyler, close to Bullard, Texas, is the Kiepersol Winery. This is a family owned winery with a picturesque setting. Their tours are thorough, wines are fabulous, and customer service impeccable!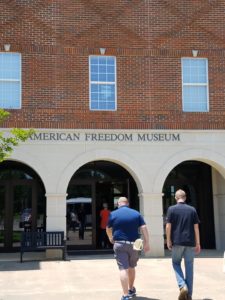 Moving on to Bullard Texas, we visited the American Freedom Museum. On the campus of Brook Hill School, you would never believe you were in a small-town museum. This museum is innovative and educational, with more to come in an outdoor exhibit! I would say they have fulfilled their mission "to Honor American veteran's and military personnel for the sacrifices they have made for our freedoms; Educate this and future generations about our rich heritage; and Inspire others to achieve greatness."
Back in Tyler, we stopped by Sweet Gourmet, a specialty store that sells food items, candies and chocolates. This year they have doubled in size! If you want to create a Texas gift basket for someone, this would be a great place to shop!
These are just a few of the many attractions in the Tyler, Texas area. Be sure to contact the Tyler Area Chamber of Commerce for information regarding these sites and more.
I want to thank Tyler's Chamber of Commerce for this great training opportunity, and the wonderful venues we visited for hosting our group and keeping us on schedule!
Tours and information are available here for groups, reunions and weddings.