Joseph J McKay (1886-1918)
Sponsored by Wanda Barber
Life Before WW1

When Joseph J "Holland" McKay was born in April 1886, his father, Samuel F. McKay, was 31 and his mother, Cordelia (Holland) McKay, was 24. He had two brothers and one sister.
At the time of Joe's enlistment in the Army in 1917, he was living in Goose Creek, Texas, which is in present day Baytown.  Prior to enlistment in 1910 he was working as a carpenter building bridges.
World War 1 Service
Inducted Date and Location: July 19, 1917 – Goose Creek, Harris County, Texas
Army Serial Number: 729,786
Death: October 8,1918 – Cause:  Pneumonia
Overseas: July 14, 1918 to death on October 8, 1918
Unit: Battery F, 64th Coast Artillery Corps
Joe was 33 years old when he joined.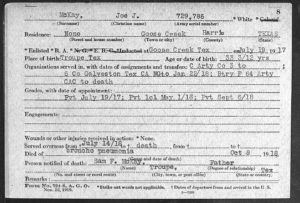 Joe McKay is buried at Oise-Aisne American Cemetery and Memorial located at Fere-en-Tardenois, Departement de l'Aisne, Picardie, France.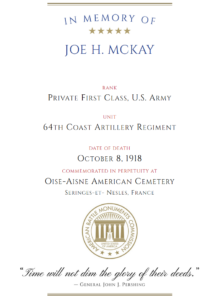 The information provided on this sponsorship page is an accumulation of work and research completed by our Society and volunteers.  If you are interested in correcting or adding information to this page, please leave a comment below or email us at info@smithcountyhistoricalsociety.org.
If you have enjoyed reading this information and are interested in sponsoring your own World War I Servicemen from Smith County, Texas please feel free to view our Sponsorship page! Click here to learn more.