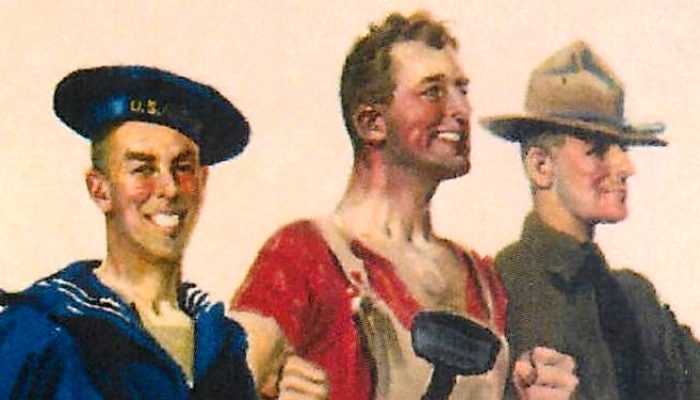 Letters Home From Soldiers During World War I is going to be a regular weekly feature in celebration of the centennial of the United States entering World War I.
"From Tyler Daily Courier-Times, May 29, 1917:
Tyler Boy Writes of Soldier Life At Camp Funston
Editor Courier-Times,
Camp Funston, Texas, May 27.
I will try and give you a little information about the camp life out here in the back woods of this fine country.
It is the experience of the Tyler boys at this place. We all arrived here in the course of time and were first directed to the Colonel's headquarters, where we were assigned to our companies. From there we went to the assigned captain and were put on the roll of Officers. Next we were put out on police duty. Now this is quite different from the police duty of Tyler forces. We did not have the power to arrest any one, but we did have and did obey the command, to pick up all the trash in the company streets and be sure that all is picked up, now that is what is called police duty at the camp. Of course, we boys that had on our civilian clothes did not like the idea of gathering up trash in this manner, but when you have orders and swear to obey all orders, why, then civilian clothes look like the soldiers suit. After gathering up this trash, we were lined up and sent to the hospital to be shot, "not with bullets, but, with Inoculation. This was the first of the three doses to prevent typhoid. To be sure we had sore arms and sick stomachs for a while, but that was nothing like the second. Why even Buck Watkins had to go and faint before he got to the hospital, he said he just knew that it was going to make him sick, and Buck was right as were several more Tyler boys.
After the hospital trip, we were called out and made to hike around over the ground, in other words we had to sweat our collars down. But that is only the start. We hiked all morning in our civilian clothes and after Dinner we had more hiking. Finally in the late afternoon we had our hiking. Finally in the late afternoon we had our measure taken and given a suit of Khaki which we all appreciated to the utmost.
Our first two days did not amount to very much in the way of excitement only the regular marches all day. But at the end of our first week we were put to real work. We leave the camp at 7 o'clock and go to the hills and march until noon and return and have lunch and at 1:30 we start the afternoon program off with more drills and lectures. We have made one distant hike of eight miles and next Monday we go just twice as far.
Most all the men at the camp are complaining of the hours we put in. We only put in sixteen hours a day and that includes two hours at night. We have very little time off. We have four rests of ten minute each during the morning and one hour off after noon. But we are here to work and not to play as Captain Peck said, and I believe he was right for I have not had time to do hardly anything, just to show what time we have I have had as the other will say they have only had time to take two baths since we arrived. But that is not our fault. For the lack of time is the reason.
Now I will give you and idea of the "eat." We are having fine "eats" here, the cooks are fine in that line, and we have plenty to eat. We have roast, beans, peas, ham, eggs, corn bread, biscuits, lightbread, tea, lemonade, and a great many other good deserts every day? I think that this the only place where a man can enjoy a square meal and know that his pocket book is not touched by the high prices. Of course we are paying for it in a sense, but not like we would if we were at home or on our own resources. A man that would kick at this feed, would try and kick a Ford into an automobile.
We have to make up our beds and sweep the floors, and one of the greatest things of all is the Saturday Wash Day. I have just returned from the bath house where I with hundreds of others have washed our clothes. If the girls could only have seen us—how they would laughed.
I forgot to say in the beginning that we have two days off each week, Saturday afternoon and Sunday. Next Wednesday we have a full holiday and possibly a full months pay day.
If you have never seen men only then come here. This is a sure enough town of three thousand men. With home and stores.
Well I will try and give you more news from the camp in the future. Wishing all of Tyler folks well, I am
Sincerely,
T. R. Smith"
---
T. R Smith is believed to be T. Royal Smith born in Marshall, Harrison County, Texas on 19 February 1894. His parents are Joseph Thomas Smith and Cassie Thompson Smith. He died November 16, 1980 in Dallas, Dallas County, Texas.
We have not been able to find much information on T. Royal Smith but hope that something else will have more to add. If we find more information we will update this post.
Information, research and assistance for the Letters Home from Soldiers During World War I provided by Andrew L. Leath, Vicki Betts, Tiffany Wright, Savannah Brantley, Randy Gilbert, Jeanne Sellers and Scott Fitzgerald.
If you wish to add or correct any information about T. Royal Smith or the Letters Home from Soldiers During World War I, please use the comment feature or Contact Us down below. We appreciate any feedback.