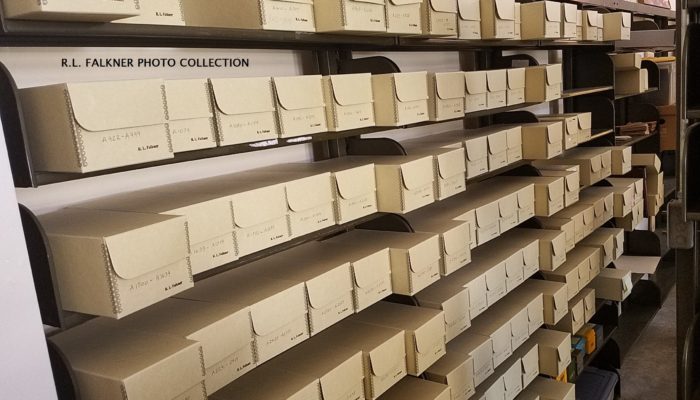 Robert Lee Falkner was born Nov. 10, 1911, in Garden Valley in Smith County, Texas to Eugene L. Falkner and wife, Eunice Jackson Neill. He attended Tyler Public Schools and lived in Tyler most of his life. He was a member of Calvary Baptist Church. He was an award-winning photographer for the Tyler Courier-Times-Telegraph for four years. He was owner of R. L. Falkner Photography Shop in Tyler for 45 years. He was an Air Corp veteran of World War II from 1942-1945, discharged as a sergeant of the 8th Air Corp.[i]
Mr. Falkner was listed as a photographer employed by Edwards Photo Finishing Plant in the Worley's Tyler (Smith County, Tex.) City Directory 1940. Robt. L. & Lorene Falkner resided at 824-1/2 Harris Ave., Tyler, Texas and worked for Edwards Photo Finishing Plant was located at 204 North Spring Ave., Tyler, Texas.
In 1941 he joined T. B. Butler Publishing Co. as a news/advertising photographer. After his service in World War II, he continued working there until October 1951 when he opened his own studio at 307 South Broadway. Mr. Falkner built his own studio at 325 South Bois d'Arc. Mr. Falkner retired after 45 years. He sold the business and studio to Donald and Joy Connery. After unsuccessful attempts to promote and maintain the Falkner business, they sold it to Freddie Black.
Because of health reasons, Mr. Black sold the collection and the building. The negatives, proofs, prints and all rights to R. L. Falkner's work were acquired in 2003 by the Smith County Historical Society with funds from the Jack T. Greer Memorial Trust Fund.
Mr. Robert Lee Falkner died October 21, 1992 in a Tyler nursing home and was buried at the Tyler Memorial Park under direction of Burks-Walker-Tippit Funeral Home. He was survived by his wife, Lorene Kent Falkner, Tyler; a son, Jerry Kent, Crested Butte, Colo.; a daughter, Peggie Falkner, Coppell; and a brother, Ralph Falkner, Dallas.
[i] Tyler Courier Times, Friday, October 23, 1992, obituary R.L. Falkner