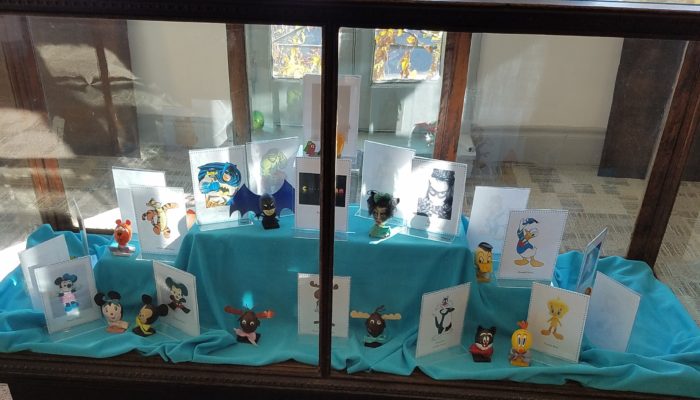 Come see our Egg Art Eggshibit through April 27, 2019!  The Fall 2018 through April 27, 2019 newest exhibit at the Smith County Historical Society is of Egg Art! We have approximately 180 hand blown eggs painted and decorated into whimsical characters. The collection was donated to us by Dr. Kerfoot Walker and family, longtime residents of Tyler, TX. The Walker's and their three children (now adults) collected the eggs for many years. The late Nell Burnett, known as Tyler's Easter Egg Lady, was the original artist. She began painting the eggs as a past time during an illness in the 1930's. Soon it became a family craft and her daughter, Carolyn Rozell, has carried on the tradition and still paints these adorable eggs. Carolyn was kind enough to add to our collection by donating another 30 eggs of her own that she has created.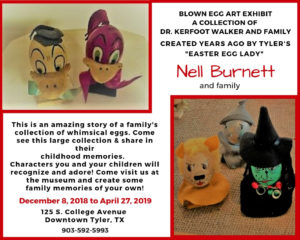 We would like to invite you to come see the creativity and time put into these fabulous eggs. Each egg has details and beauty that, like any art, can only be truly appreciated when seen in person. This is a fun exhibit that adults and children will enjoy.
We are located in Downtown Tyler, across Elm Street from the Tyler Public Library in the historic Carnegie Library building.
Our Eggshibit will soon be featured in an article in Lifestyles magazine in March or April of 2019. We look forward to seeing this article and seeing these fabulous eggs receiving the attention they deserve!
For now, check out these links to interviews with Carolyn Rozell:
JB's Journal is a You Tube video titled Extravagant Egg Artist and dated February 28, 2017. J.B. Smith is a long time member of our Smith County Historical Society, and a current Board member
https://www.youtube.com/watch?v=RtzAyR0HcoE
This is a KLTV Interview with Carolyn Rozell during a news story about the Opening of our Exhibit on December 8, 2018. It is titled No Ordinary Eggs
http://www.kltv.com/2018/12/09/no-ordinary-eggs/