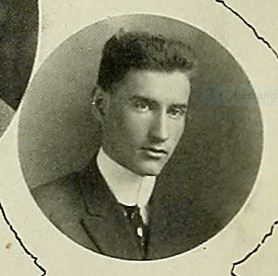 Joseph Favre Baldwin (1892–1918)
Sponsored by Wanda Barber and Tiffany Wright
Life Before WW1
Joseph Favre Baldwin was born on August 3, 1892, in Tyler, Texas. His father, Aaron, a doctor and his mother, Clara, a concert pianist.  He had one brother, Fredrick.  He attended Tyler High School.  He was a senior Medical School student in 1915, attending Tulane University.  On May 25, 1917 when he signed his draft card, he was a Physician at the Touro Infirmary, New Orleans, LA, reporting to Dr. W. W. Giles.  He also trained at the Army Medical School, Washington, DC.  He was called into service as a 1st Lieutenant in the Royal Army Medical Corp, September 15, 1917.  Serving as a part of the 11th (Service) Battalion he landed in France and saw action on the Western Front.
World War 1 Service
Called into Active Service as: 1st Lieut. Medical Corps – Officers' Reserve Corps – Sept 15, 1917
Attended Army Medical School at Washington, DC
Killed in Action: August 7, 1918
Overseas: October 15, 1917 to Death
Unit: 11th Service Battalion – Royal Army Medical Corp
He died on August 7, 1918, in France at the age of 26, and was buried in his hometown at Oakwood Cemetery.
Lieutenant Baldwins Last Letter here.
The information provided on this sponsorship page is an accumulation of work and research completed by our Society and volunteers.  If you are interested in correcting or adding information to this page, please leave a comment below or email us at info@smithcountyhistoricalsociety.org.
If you have enjoyed reading this information and are interested in sponsoring your own World War I Servicemen from Smith County, Texas please feel free to view our Sponsorship page! Click here to learn more.