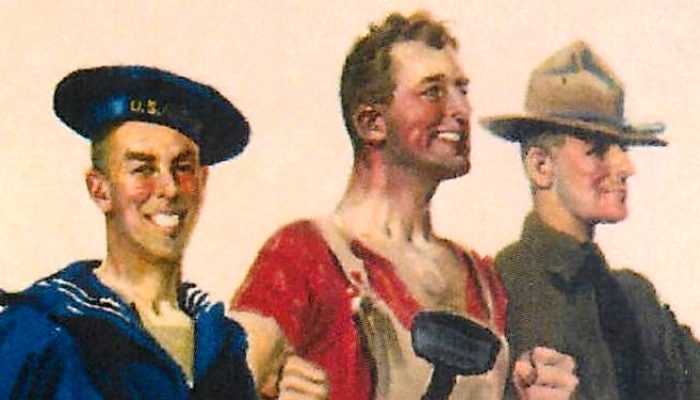 Letters Home From Soldiers During World War I is going to be a regular weekly feature in celebration of the centennial of the United States entering World War I.
From Tyler Daily Courier-Times, November 8, 1917.
Lieut. Edelle Parker Writes Interesting Letter About War
From "Somewere in France"
Mr. W.H. Parker, of the Cotton Belt general offices, is just in receipt of a very fine letter from his son, Lieut. Edell Parker, who is with the American Expeditionary Forces in France.
Lieut. Parker has so many friends here and elsewhere in Texas that we asked Mr. Parker to allow it to be printed in the Courier-Times. It follows:
Somewhere in France, Oct. 9. 1917.
Dear Papa: It seems strange that I am away over here in France, and especially since I am not permitted to tell where I am, nor nothing pertaining to the war that will give out the least information. I will try and give you a detail of my trip this far, or tell so much as I am permitted in a brief way.
As you know we were ordered to Hoboken, to report on Aug. 29. After, reaching there we were requir4ed to purchase full field equipment such as commissioned officers are required to wear on the battle front, before reporting to our superior officers. This equipment consisted of two sits or uniforms, one overcoat, six top shirts, four suit underwear, six pairs, sox, two pairs trench and field boats, three blankets, gloves, field glasses and number of minor articles. All the clothing is f the very heaviest, all wool, and the best that is manufactured. I had to have lockers, besides my grip, to bring by luggage over
We left a Atlantic port on a certain vessel on a certain day during the first days o Sept. Our trip over was uneventful. However, we had to be prepared all the time for an attack from a sub. We kept our life preservers by us all the while, every carrying them down to the dining room with us. We were not allowed to smoke a cigarette on deck after sundown nor did the vessel display a single light after that time.
We arrived at a French port and were met at the pier by the populace of the city, and they have us a rousing welcome. I never saw so many smiling women all in one bunch. Some of the older women even cried for joy. We were showered with flowers and we were given all kinds of fruit and we also were served with lunch. We were treated royally and nothing was left undone for our comfort. The only way we can distinguish the married women is they nearly all were black for husbands killed in battle. The women are very beautiful, but most of them show on their features that there is a sadness praying on their minds. We can't understand them nor they us, but we can finally make our wants known after a lot of funny jesticulations and signs.
We remained in the place where we landed two days awaiting orders. When they came all were hustled aboard train at 7:3 p.m. and rode until 2:30 p.m. the following day. Here I supposed I will be permitted to say that we passed through Paris.
We detrained at a place and were carried to our destination in large autos. Here I will say that the train we came over to this place is quite different from trains at home. For instance the coaches are all built in compartments to accommodate six persons, and a side door opens to the outside just like the door of a cab. The engines are very small.
Here where we now are I saw my first British and Scottish military camp. The Scotch are very funny looking fellows in the peculiar dress, which is a short dress coming down nearly to the knees, and the legs re bare down to their short sox. They were this same dress in battle. We are the only Americans over in this particular part of France, were we now are, and the people look and stare at us in perfect amazement.
We are just back from the front fighting trenches and can hear music of the battle ror, and at night we can see the big shells bursting, and, papa, I want to tell you its something terrific and a most beautiful night. Our school of instruction began Oct. 1st and will last for five weeks, during which time we will be taken to the front trenches, there to see and experience the war as it really is and to be right in the midst of the real fighting. After our course of training is complete, I have no idea where I will be sent. It may be that I will be sent back to the States as an instructor to the armies being formed there, or I may be kept here as an instructor to the boys after they cross over the pond to this side.
One of the most interesting and picturesque sight to be seen over here is the fighting between aeroplanes, I have witnessed several such scraps and I can not begin to describe them. Each fellow with his machine maneuvers for advantage over his antagonist, just like contending in a lucky shot with his machine gun, the poor fellow who is put out crashed to earth with his machine and that ends it all. Sometimes these battles occur in squadrons, and they do each fellow usually picks his victim and goes after him.
I saw a battle the other day between a bunch of German machines and a bunch of antiaircraft guns. The anti-aircraft guns are made so they can be turned in any direction, up, down or round, and they then open up on an aircraft, this always disperse them. In this last fight German planes used bombs trying to put the land battery out but they had to give it up as a bad job, and flew back to their own lines. Fragments of shells fell all around us.
I am c___ to stay over here and help clean out this bunch of Germans, but the part I am playing I am liable to be sent most anywhere. We are completely isolated from the world. We have not seen a paymaster since coming over __t, and we can't get U.S. stamps, trusting to Uncle Sam to carry them safely for us.
Write me all the news from home, and give my regards to all inquiring friends and you may bet that I am doing my very best and I trying to make good in any place to which I may be assigned.
Your Loving Son,
EDELLE PARKER
---
Clarence Edelle Parker was born on December 10, 1894, in Lindale, Texas to his father, William Harrison Parker and his mother, Flora Artemissa "Artie" Starnes.
He married Millie Louise Morris on March 15, 1923, in Smith, Texas. They had two children during their marriage. He died on February 21, 1975, in Tyler, Texas, at the age of 80, and was buried there.
From Vertical Files of Smith County Historical Society, Family Files, Parker Family:
February 23, 1975 [handwritten]
[photo of Clarence E. Parker]
Clarence E. Parker
C. E. Patrick's [sic] Services Today
                Funeral services for Clarence Edelle Parker, 80, of 2826 Birdwell in Tyler will be at 4 p.m. Sunday at the First Christian Church with the Rev. Fred C. McCoun and Dr. W. M. Shamburger officiating.
                Burial will follow in Rose Hill Cemetery under the direction of Lloyd James Funeral Home.
                Mr. Parker died Friday afternoon in a Tyler nursing home after a lengthy illness.
                Mr. Parker was born December 10, 1894. He retired from the Cotton Belt Railroad in 1955 after 40 years as an accountant with that company.
                He was commissioned in the U.S. Army in 1917 and served in seven major sectors in France during World War I, earning two purple hearts, the silver star and the French Verdun medal. Following the National Guard and eventually obtained the rank of Colonel.
                Mr. Parker commanded troops when martial law was declared in 1929 and again when martial law was declared on the East Texas oil fields in 1931 and 1932. He was also commander of the troops on duty during the New London school disaster in 1937.
                An active worker with the Boy Scouts for many years, Mr. Parker was awarded the Silver Beaver by that group. He served as baliff of the Seventh District Court for seven years, retiring in August of 1953
                Mr. Parker was a member of St. John's Masonic Lodge 215 and a member of the York Rite Masonic organizations including the chapter, the council and the commandary. He was also a charter member of the Sharon Shrine Temple.
                He is survived by his wife, Louise M. Parker of Tyler; one son, C. E. Parker Jr. of Yuma, Ariz.; a daughter, Mrs. Don Carroll of Midland, Mich.; a brother, E. Ralph Parker of Tyler; and aunt, Mrs. Finis Seale of Tyler and four grandchildren.
                Pallbearers will be William D. Lawrence, Jr., F. Lee Lawrence, J. H. White, Phil Dibert, Jim L. Gulley, Jr.; Judge R. P. Power, Parker Towles and Sam Johnson.
                Honorary pallbearers will be elders of the First Christian Church.
Funeral Program of
Clarence Edelle Parker
In Memory of
Clarence Edelle Parker
Dec. 10, 1894     Feb. 21, 1975
Services Held At
First Christian Church
4:00 P.M.            Feb. 23, 1975
Clergy
Rev. Fred C. McCoun
Dr. W. M. Shamburger
Music
Mrs. C. C. Baker, Jr.
Mrs. Jim Gulley, Jr.
Pallbearers
William D. Lawrence, Jr.
F. Lee Lawrence
Phil Dibert
Judge R. P. Power
Parker Towles
Sam Johnson
J. H. White
Jim L. Gulley, Jr.
Honorary Pallbearers
Elders of First Christian Church
Interment
Rose Hill Cemetery
50th Wedding Anniversary Invitation
1973       1923
Mr. and Mrs. Don Bonneau Carroll
Mr. Clarence Edelle Parker, Jr.
Request the pleasure of your company
at the
Fiftieth Wedding Anniversary
of
Mr. and Mrs. Clarence Edelle Parker
Saturday, the twenty-fourth of February
The Woman's Building
911 South Broadway
Tyler, Texas

Please omit gifts              Three until five
Information, research and assistance for the Letters Home from Soldiers During World War I project provided by Andrew L. Leath, Vicki Betts, Tiffany Wright, Savannah Brantley Cortes, Randy Gilbert, Jeanne Sellers and Scott Fitzgerald. If you wish to add or correct any information about Edelle Parker or other Letters Home from Soldiers During World War I, please use the comment feature or Contact Us down below. We appreciate any feedback.