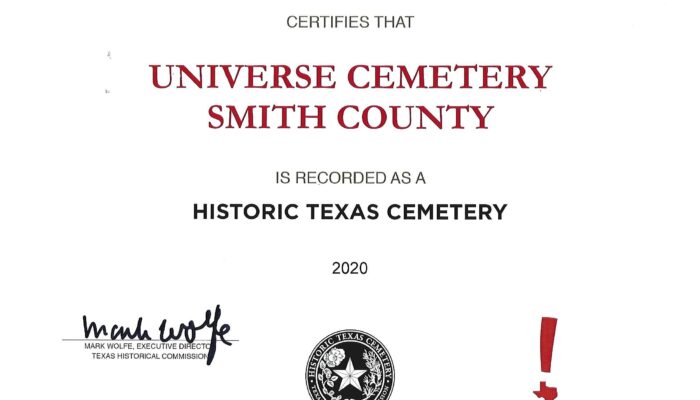 The following is a press release that was created by Vicki Betts after she and others worked diligently to have the Universe/University Cemetery designated as a Historic Texas Cemetery.
Date:  July 14, 2020
Press Release – For Immediate Release
Contact:  vbetts@gower.net
Universe/University Cemetery Receives Historic Texas Cemetery Designation
(TYLER), Texas—The Texas Historical Commission (THC) recently designated Universe/University Cemetery, located off of Nottingham Lane east of Tyler, as a Historic Texas Cemetery.  The distinction means the cemetery has been legally recorded through the THC's Cemetery Preservation Program, an important step in ensuring its preservation.
The designation is reserved for cemeteries that are at least 50 years old and documented through the Historic Texas Cemetery designation process to record their historical association and significance.
"Cemeteries are important keys in the history of Texas.  Designation as a Historic Texas Cemetery helps increase public awareness of these important cultural resources," said Mark Wolfe, executive director of the THC.  "Knowledge and education are among the best ways to guarantee the preservation of a historic cemetery."
A dedication ceremony to commemorate this historic designation may be held at a later time.
Members of the Smith County Historical Society worked on the nomination process for almost a year.  They have also shared information with the Texas Freedom Colonies Project Atlas and Study at Texas A&M University which documents the unmapped black settlements of Texas.  The Smith County Historical Society would welcome any photographs, mementoes, or stories about the Universe community which might be scanned or photographed. (email to archives@smithcountyhistoricalsociety.org)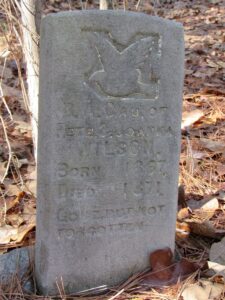 Cemeteries hold valuable historic information and are often the last reminders of early settlements' historical events, religious beliefs, lifestyles, and genealogy.  While the Historic Texas Cemetery designation encourages cemetery preservation, it cannot guarantee that a historic cemetery will avoid destruction.  Threats to historic cemeteries include urban expansion and development, vandalism, grazing animals, and long-term deterioration from weather and uncontrolled vegetation.
The THC developed the Historic Texas Cemetery designation to address the destruction of historic cemeteries and the illegal removal of cemetery fixtures.   Any individual or organization is eligible to submit an application for this designation.
For additional information regarding Historic Texas Cemetery designation, or to receive an application, contact the THC's History Programs Division at 512-461-5853 or history@thc.texas.gov.
For more information about historic cemetery preservation, visit www.thc.texas.gov/cemetery.
On January 29, 1870, William Taylor and Ben Goss, freedman, of Smith County, Texas, deeded 3.5 acres of land to Orange Humphreys, Robert Daniel, James Evans, Daniel Curtis, and Ben Goss, trustees of the University Colored Church, for use as a church lot.  It eventually included the cemetery, also known as Universe Cemetery.  On July 3, 1891, Ben Goss deeded another acre out of his James Kelly survey land to the trustees of Universe Church, CME, but on the Tyler-Henderson Road, indicating that the original site was no longer being used as a church but it continued to be used as a cemetery as noted by grave marker dates.  On September 19, 2007, Rev. Donald R. Madlock, Sr., trustee of University Colored Church, a/k/a/ Universal C.M.E. Church, sold the property, including the cemetery, to Bobby Joe Manziel.
The origin of the name University Colored Church is unknown, but in the 1870 census, James Sears, 36, a white teacher born in New York, was living with the Goss family.  Perhaps there was a dream of a black college in the future.  Universe School (African-American) was later located nearby on the Old Henderson Highway, part of the Liberty Hill School District No. 31.  In 1938 it was a one teacher school with 23 students.  It later consolidated with the Jackson School District.
According to Findagrave.com, there are 319 graves at Universe Cemetery.  The oldest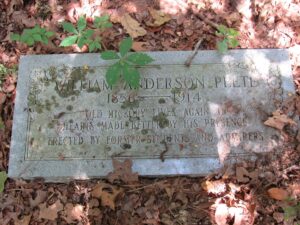 marked grave in the cemetery is from 1871 and the most recent is from 2005.  Among those buried at Universe are W. A. Peete, a leading black educator in early 20th century Tyler who was also a Republican Party leader and a local contributor to the Dallas Express newspaper.  Tyler's Peete Elementary School is named for him.  Myles Anderson was an All-American fullback for Texas College (Tyler), an educator and a coach.  The top four surnames listed in Universe Cemetery are Goss, Murphy, Henry, and McDaniel.  Sixty-three persons were known to have been born into slavery, probably many more who did not list birthdates or whose graves are unmarked.  The cemetery includes gravestones for six World War I veterans and seven World War II veterans.
The cemetery is currently very overgrown in young pine, young oaks, bushes, and brier vines. Several large pines have died and fallen, damaging fencing and markers.
This cemetery is located on private property (Map from THC (1)). For more information about historic cemetery preservation, you must visit www.thc.texas.gov/cemetery
The Smith County Historical Society provides research information only and has no authority over the physical preservation of cemeteries.
Click here for more information about the original owner of the land, Ben Goss