Andrew Smith – World War 1 Soldier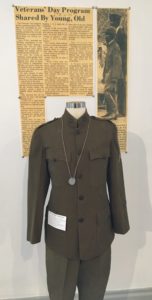 Andrew Smith was born on October 4, 1894, in Linden, Texas. He registered for the draft on June 5, 1917 at Dangerfield, Texas.  At that time, he was a Hotel porter in Omaha, Texas.  He served overseas from August 22, 1918 through July 17, 1919 with Company C, 322nd Service Battalion.  He was discharged on August 2, 1919. Andrew remained behind the lines most of the war, working as a photographer, office worker, kitchen worker and guard during his eight-month tour.  He then returned to the United States, and for 32 years managed the Palace Theater of Tyler.
The newspaper article that you see in the picture was written November 11, 1976 commemorating Veteran's day at the courthouse square.  Andrew proudly wore his exquisitely preserved WW1 uniform which is on display at the Smith County Historical Society.
Please come by and see our WW1 exhibits honoring the men and women of Smith County.